Ho ho ho!!!

How was your Christmas, boys and girls?

I hope all of you had a great Christmas. I haven't posted for days, simply because I have not had the time. It has been a very, very, busy month! Here is a review in pictures...as promised..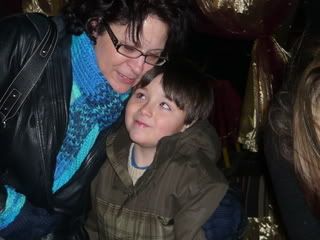 My friend Angela, and Nicholas at the live Nativity...it was sooo cold. Made you wonder, and remember how cold it may have on the day Jesus was born. Imagine being stranded in a strange town, in labor, and not having a place to rest and have a baby. The cold night was very humbling.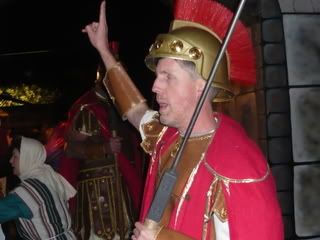 Oh yeah, and don't forget those Roman soldiers bossing you around, telling you to hail Cesar and to pay your taxes... Sound familiar?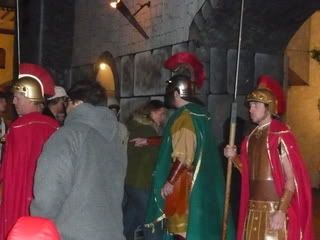 These soldiers were very intimidating...they were really acting the part well.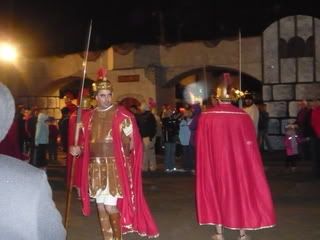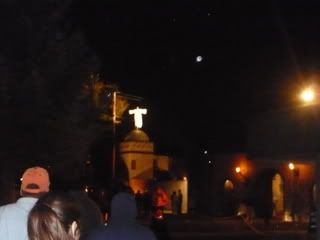 Okay this picture above is the angel Gabriel, the white figure) telling the sheperds where to find the baby Jesus. This guy is standing on a pedestal, way up high--very frightening to watch.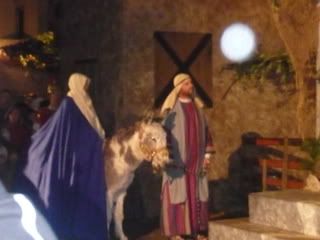 No room at the Inn.

Humbling, and beautifully done. I know I've said this before. The one of whom we celebrate His birth-to be born in a barn-makes me cry. It also makes me think. If Jesus was to be born today, where would he find a place to lay his head? A homeless shelter? A garage? A old run down vacant building? Instead of shepards, who would be there first to greet him? Who would the angel speak to and call on first? He called the shepards-the poor, and trusting. They were the first to see their Savior. Would kings come later? Nobel Peace Prize Recipetents? Presidents? Celebrities? What would they bring him? Worthless material junk?