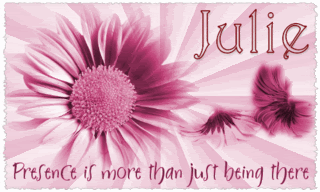 Hello -
Since the evil AOL Blogger Gods have kicked me out of their domain, I will now make Blogger my new home.
It ain't all that bad...
Change is good...
Time to start all over again - clean slate.
To all my Jland friends, the above graphic is for you. I'll still be around..
Life is good. Keep saying that, even if sometimes you don't believe it.
LIFE IS GOOD!
Repeat, take deep breath
Repeat again...
This will be a very short entry. I'm tired. Nicholas threw up his
spaghetti
dinner, and between that, getting him in the tub, cleaning the kitchen floor, doing laundry...etc.. My back hurts, and I'm ready to fall into bed.
I here Friday is coming.. It won't come soon enough--it's been a long week...