A small world story..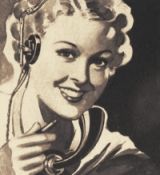 I belong to a group at Yahoo Groups that is about people who are from, or people who have lived on the island of Terceira, Azores-it's the island my family is from. A lot of the people in the group are from there, but most of the people are U.S. military people who were stationed at sometime there at the U.S. Air Force base in Lajes, like my father was, years ago. These people have good island memories of the island and the people who they lived and worked side by side with them.

I got an email the other day from a woman who was looking for a long time friend who worked at the base as a civilian. This person was one of the chief Portuguese phone operators on the base, who also used to baby sit her children, and was a housekeeper for her family. All she had was a name, "Manuela". I forwarded the message to my cousins on the island, and to my surprise (I wasn't really surprised-just happy—it's a small island-people know each other!) I got an email from Manuela's former supervisor. My cousin, Joe sent the message to his boss, and his boss sent me information on Manuela who had since retired. I was able to get back to the lady, who was looking for Manuela, and they are both very happy; they've reconnected after many years.


The story doesn't stop there…


Later that night, I asked my cousin Tania if she knew of this Manuela person. It so happens that she does! Her fiancé, Ruben was very close to her son since a very early age, and his mother worked side by side with his mom. All of this talk about this Manuela person stirred up stuff in my own memory as well. I remember, after I had met my ex-husband, (a long time ago-I was 19 at the time) my parents had to install a telephone in my room. The reason why was because of all phone calls I would get at 1 and 2 a.m. in the morning from the boyfriend in the Azores. There is a seven hour difference between the Azores and California. I remember him telling me that he had a friend who worked at the telecommunications section of the base who would help him make free international calls to California. Her name was Manuela, and she was a very nice lady according to him. I thought she was awesome of course. There was a time that I lived for those phone calls from the boyfriend in the Azores. (Of course now, I don't much care for any calls from him. Thank God my kids have cell phones so he can call them directly.) She would sometimes call him (he worked at the hotel on base) and ask him if he wanted to call his "girlfriend in California".


It IS a small world after all. She did a big favor for me at one time, I'm just glad I was able to return the favor somehow.